Jun. 01, 2023

May. 22, 2023

Apr. 18, 2023

Apr. 12, 2023

Mar. 09, 2023
Aluminum Wheel Care
Attractive Aluminum Wheels
A finishing touch close to the road gives users more satisfaction.
Wheels are important parts which can affect the finish of your car detailing. These days many cars have aluminum wheels installed as the standard, and their variety of designs and quality feel make them a must-have part for dressing up your vehicle. For a part which reflects the user's personal tastes, it's all the more important that they be cleaned meticulously as well. In addition to our proprietary work menu, we also offer a high value-added service menu during the coating process. In recent years, our menu has increasingly been adopted by new car dealers.
History and Role of the Wheel
Wheels are an essential part for a vehicle to move, and they must be both shock absorbent and durable. Today, in addition to fulfilling the requirements for strength, wheels must also be lightweight, accurately finished in various sizes and shapes, and have highly fashionable designs. As a result, many types of metal materials are used to make wheels, such as iron, aluminum, and magnesium. In combination with many different manufacturing methods and constructions, this has led to the creation of an endless number of products. The first aluminum wheels to be installed belonged to the Bugatti Type 35, a racing sport car which left its mark on history.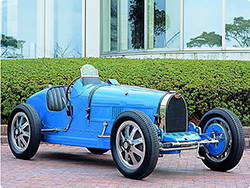 For high quality work,
it is important to first know the characteristics of the materials.