Jun. 01, 2023

May. 22, 2023

Apr. 18, 2023

Apr. 12, 2023

Mar. 09, 2023
【Boxed】3M Masking Tape 183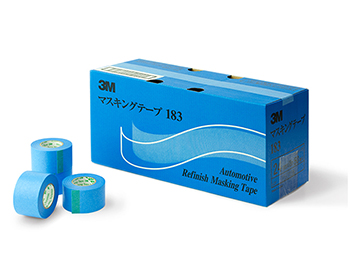 This all-purpose masking tape for automotive painting is made with Japanese paper as its base material. An updated version of the old 143N, it can now follow curved lines better, and its unrolling and peeling off have also been improved. It is a product with excellent cost performance.

◆ It can withstand drying at 120℃ for 1 hour.
■

Its improved adhesive gives it strong adhesion while also allowing it to be peeled off easily.

■

Its elastic base material allows it to follow curved lines accurately.

■

It is now lighter to unroll, making it easier to use.
Product list