Jun. 01, 2023

May. 22, 2023

Apr. 18, 2023

Apr. 12, 2023

Mar. 09, 2023
About Headlight Cleaning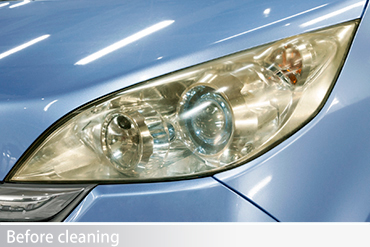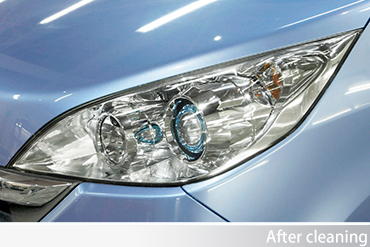 Headlights: Contents
Current state of headlight cleaning in auto detailing
Headlights are one of the most important parts of the automobile exterior. Glass headlights were standard between the 1950s and 1970s, but most modern vehicles use resin headlights, which are light and durable. Most resin headlights are made of plastic, which can be easily processed into various shapes. Today, headlights are not simply lights, but key parts of the design of a vehicle that come in a variety of forms. However, it is also true that there are various problems with plastic headlights which do not occur in glass headlights. The most serious of those problems is "yellowing", when the headlight begins to turn yellow. It sometimes takes only three years for the headlights of a new car to begin yellowing. The auto detailing industry has long sought ways to deal with this, but the causes of deterioration are complex, and one misstep during headlight cleaning can cause various other problems. It remains challenging to handle yellowing reliably.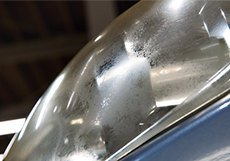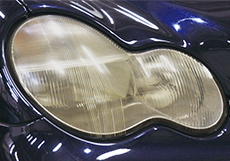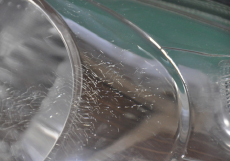 History of headlights
Headlights were adopted as a safety measure very early in the history of automobiles. Rolls-Royce was the first to do so over 100 years ago. Headlights continued to change and improve. With the introduction of the rectangular headlight in the 1970s, headlights became a key element of automobile design. In 1981, the world's first resin headlight was developed, making it possible to design headlights with complex curved surfaces instead of the conventional flat shape. In 1989, an even greater variety of designs became possible with the development of multi-reflector headlights, which are now becoming standard for modern vehicles.
History of headlights around the world
1909: Introduction of first electric headlight (France)
1937: Introduction of retractable headlights (United States)
1961: Production of rectangular headlights begins (England)
1974: Use of rectangular quad headlights (United States)
1986: Introduction of projector headlights (Germany)
1989: Introduction of multi-reflector headlights (Japan)
1991: Introduction of HIDs (high intensity discharge lamp) (Germany)
History of headlights in Japan
1914: Datsun No. 2 adopts electric headlights
1932: KOITO MANUFACTURING CO., LTD. succeeds in producing headlights domestically
1957: KOITO MANUFACTURING CO., LTD. succeeds in domestic production of all-glass sealed beam headlights
1966: Introduction of rectangular headlights
1967: Introduction of irregularly shaped headlights
1979: Introduction of irregularly-shaped halogen headlights
1981: Introduction of the world's first resin headlights
1984: Introduction of all-resin (both lens and reflector) irregularly shaped headlights
1987: Introduction of projector headlights
1989: Introduction of multi-reflector headlights
1996: Introduction of HIDs (high intensity discharge lamp)