Jun. 01, 2023

May. 22, 2023

Apr. 18, 2023

Apr. 12, 2023

Mar. 09, 2023
UNIGLOBE Trim Molding Protection Film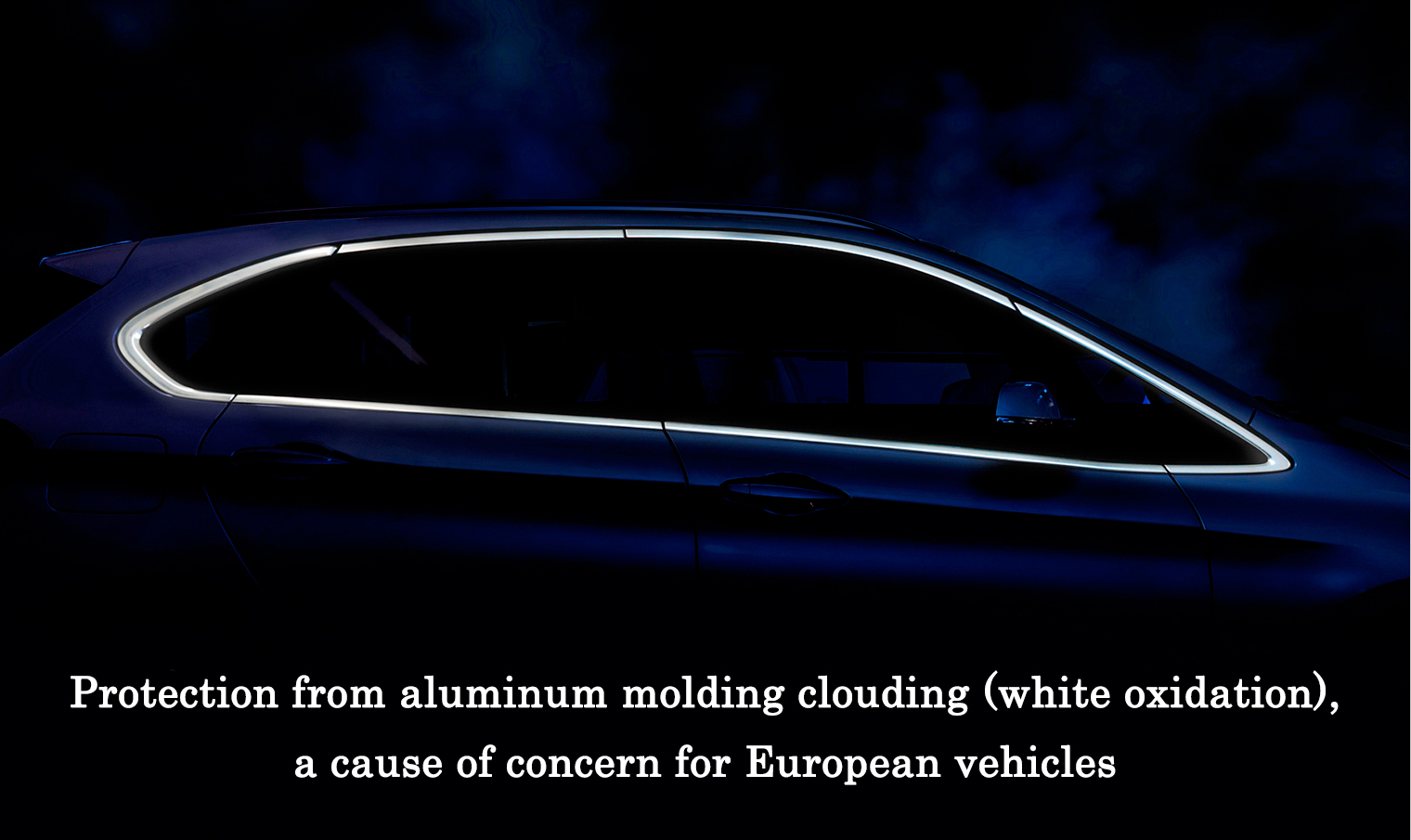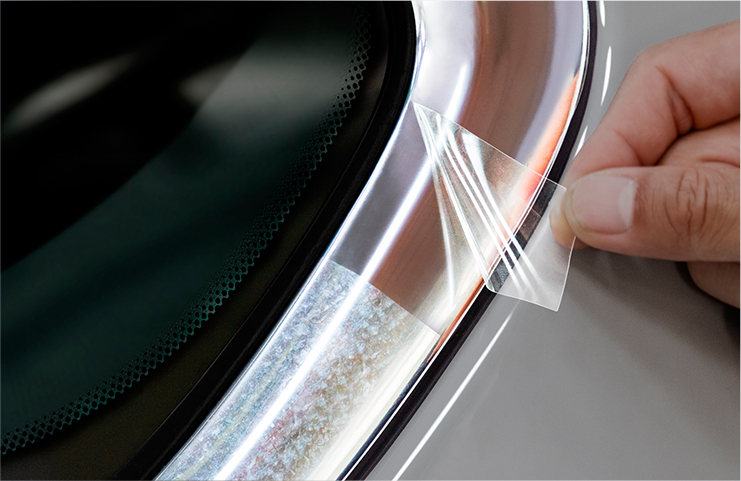 Introducing UNIGLOBE Trim Molding Protection Film Part 2 of the total solution proposed by UNIGLOBE TVP (Total Vehicle Protection)
FE TRADE has been a proponent of European automotive trim molding care since our founding. UNIGLOBE Trim Molding Protection Film is a new form of physical protection which aims to increase end user satisfaction. Many owners of European vehicles have experienced the harmful effects of cloudy aluminum molding, and this new protective measure is expected to be in high demand. This service is easy to introduce and has excellent cost-performance.
Solving a long-standing issue for auto detailing
A new approach to preventing clouding and corrosion often seen in non-Japanese vehicles
European vehicles have played a large role in the motorization of Japan. As automotive care has evolved, European vehicles have steadily secured their position in Japan. However, although vehicles developed in places with different cultures from Japan's bring with them novel designs, they also have frequently used materials not suited to Japan's environment, which has resulted in harmful effects. Aluminum molding around windows, in particular, is a part which starts to become cloudy even on new vehicles, and this has long been a cause of concern for both sellers and owners. Currently, in Japan's auto detailing market the common preventive measure for this is to apply a coating after polishing. However, UNIGLOBE Trim Molding is a new physical preventive measure which provides a higher level of protection. We offer this option as a new business category.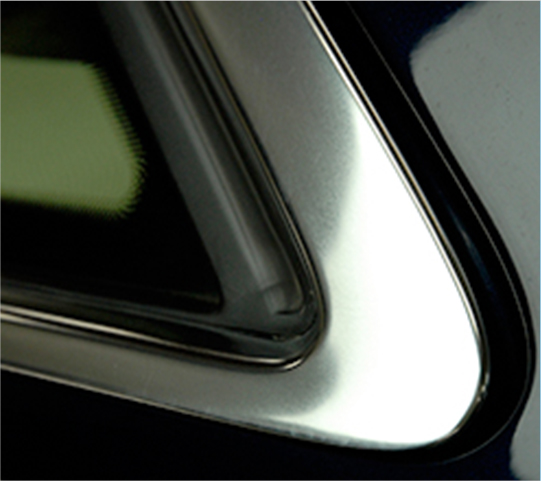 Cause of deterioration seen in many non-Japanese vehicles, such as European vehicles
The aluminum used on non-Japanese vehicles is an amphoteric metal which can oxidize from reactions to either acid or alkaline solutions, and therefore it is not very durable as it is. For this reason, the alumite (anodic oxidation) process is used to chemically oxidize the surface and reduce any further reaction, thereby increasing its durability.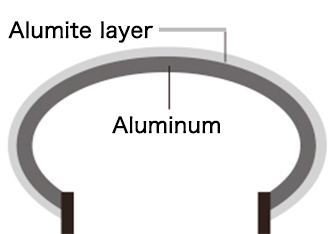 Alumite processing provides very good weather resistance and corrosion resistance, if it can be kept in a pristine state.
However, because alumite's thermal expansion rate differs from aluminum's, cracks can form and allow oxidizing materials to penetrate.
During the alumite processing of molding, differences can be seen in the technique itself.
Vehicles are manufactured in Europe, which has low temperatures and humidity, but they are used in Japan, which has high temperature and humidity.
There are many reasons why it is difficult to "maintain the shine and prevent deterioration" of molding on non-Japanese vehicles.
High quality pre-cut data allows you to install the film without deforming the accurate line
The trim molding is a part with a strong presence for its aluminum material which offers gloss even though it is thin. Even if the car body is polished and turned to be clear, the whitened trim molding prevents the entire car from looking beautiful.The pre-cut data from UNIGLOBE's Pattern Cloud System (PCS) produces the film which does not need to be extended as much as possible when being installed, thus it keeps the accurate line of aluminum moldings. As a result, the film achieves the beautiful finish without warping its shape and deforming the line due to being extended during installation.

Outstanding shape ensuring the ease of installation and making its presence unnoticeable
Not only the beautiful line but also the size of the pre-cut data is designed to be perfect to achieve a smooth drainage and ensure the position to be unnoticeable when installing the film on the edge.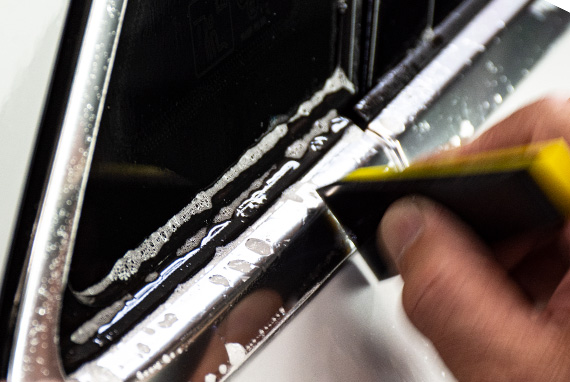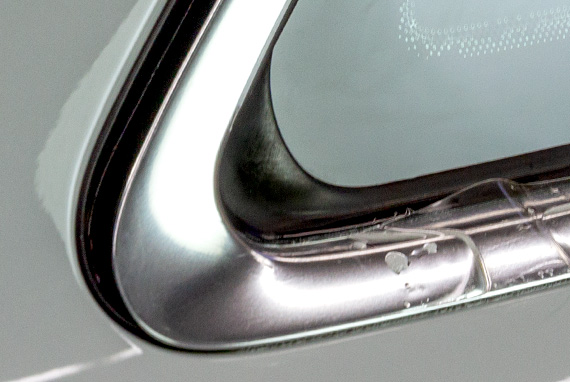 Pre-cut data and limit of one-off application
One-off application is possible on a trim molding because it is not a large part and it has few cubic surfaces. However, there are often unique and beautiful curved lines made by metal upside or around rear windows. For this reason, there is a limitation of pattern making or cutting by hand. Also, even a little bit of distortion unexpectedly catches people's eye due to the gloss of the film after installation. On the other hand, pre-cut data reproduces accurate beautiful curved lines which fit the parts by machine cut and achieves the finish meeting the users' expectations.
QUATECT: Prevents clouding and water spots for 5 years


The products in this category use UNIGLOBE QUATECT, the flagship product of the UNIGLOBE brand with guaranteed durability. It provides long-term protection to aluminum molding from various causes of clouding, such as acid rain, alkaline cleaners, and UV radiation.
●

Superior protection

QUATECT applies a special hard coat impregnated with fluorine to the surface of the film. It provides excellent protection against the various contaminants dispersed throughout the atmosphere, and prevents the aluminum molding itself from becoming cloudy over the long term.
Results from accelerated weathering tests using Sunshine Weather Meter
| Sample | Color difference | Luster | Appearance (visible) | Adhesive residue |
| --- | --- | --- | --- | --- |
| 0 hours processing | ー | 190 | ー | None |
| 1,000 hours processing | ⊿E = 0.1 | 160 | No change | None |
| 2,000 hours processing | ⊿E = 0.1 | 140 | No change | None |
Accelerated test machine: Sunshine Weather Meter S300 (Suga Test Instruments) *300 hours equates to 1 year

Appeal to customers with the greater peace of mind given by applying a physical film compared to coatings or waxes
●

Other films

We also offer training films and part templates for different car models (pattern paper) which you can use to fit your business needs.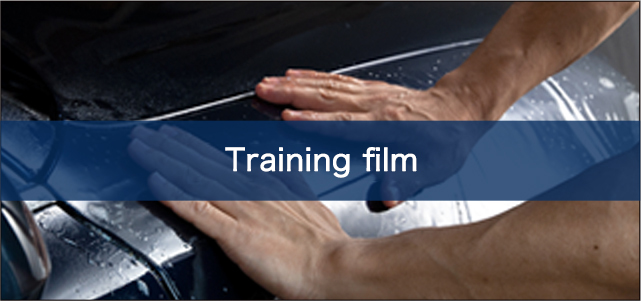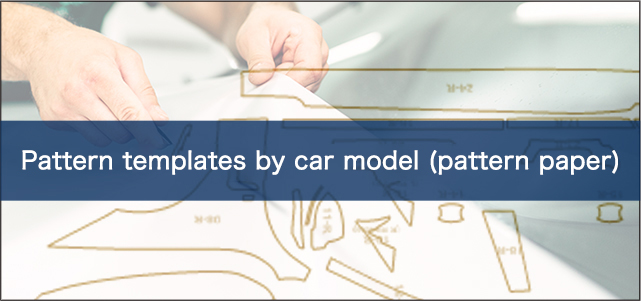 All film types are available through the pre-cut film searching/purchasing system as well.

Click here to purchase standalone films and supply items
Easy to adopt and simple to apply
Aluminum molding's form is straightforward, flat with few high or low spots, meaning that anyone can easily and accurately apply a film once they have mastered the basics of application. You can learn how by practicing on your own with the manual you receive when you buy pre-cut film.
Furthermore, we always have staff who can give you detailed help with pre-cut film.
If you have any questions about the application method, please feel free to contact us.
Click here
to contact us in detail.
●

Big advantages unique to FE TRADE

●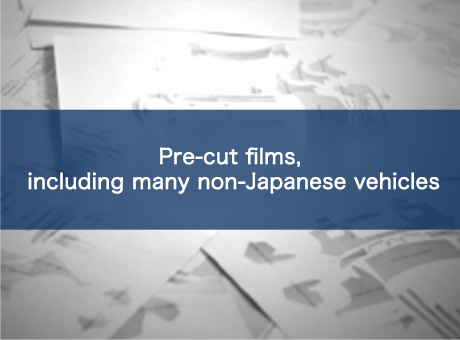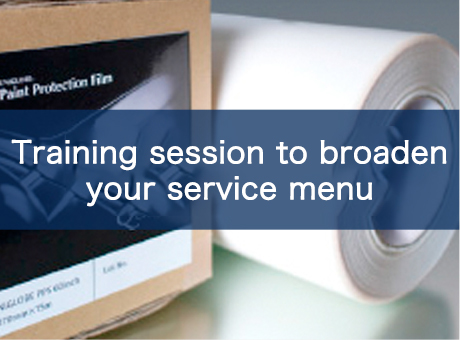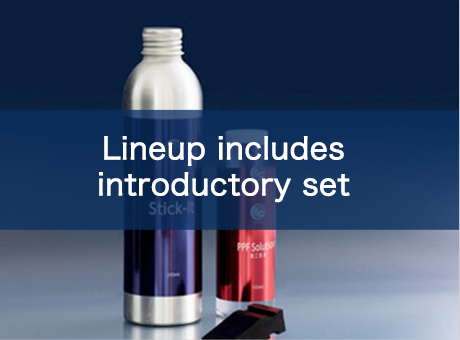 Approach to new and used vehicles and how you can adopt films
Mousing over an image will display the advantages
New vehicles
New vehicles
When doing applications for customers, the target is undoubtedly clear, which makes it easy to adopt films as part of your dealership service menu. You can add trim protection films as an option with coatings as well as with automotive films.
Used vehicles
(for visible deterioration)
Used vehicles
(for visible deterioration)
Molding which is dirty and has advanced corrosion requires polishing with chemicals. By recommending protection alongside a cleaning proposal, you can fulfill many of the customer's needs. The film becomes an essential item for preventing future deterioration and preserving the vehicle's beautiful appearance.
Reference prices for application:
Vehicle class
Trim size
Vehicle model
Reference price for application
Compact
SS
1 Series
¥35,000
SS
A-Class
¥35,000
S
Compass
¥38,000
Mid-size
SS
Golf Variant
¥35,000
S
B-Class
¥40,000
M
A3 Sportback
¥43,000
L
Passat Variant
¥45,000
LL
2 Series Active Tourer
¥48,000
Mid-size (luxury)
SS
Z4 Softtop
¥42,000
M
XE
¥45,000
M
A4 Sedan
¥45,000
L
C-Class Stationwagon
¥48,000
L
X3
¥48,000
Large-size
S
E-Class Cabriolet
¥50,000
M
5 Series
¥55,000
M
E-Class Sedan
¥55,000
L
Q7
¥58,000
Large-size (luxury)
L
A6 Sedan
¥60,000
L
A6 Avant
¥63,000
L
A7 Sportback
¥65,000
LL
Range Rover Sport
¥68,000
Top-class (flagship)
M
7 Series Sedan
¥70,000
L
S-Class Sedan Long
¥73,000
L
A8 Sedan
¥70,000
Used vehicle (with visible deterioration)

Example application price (including restoration)
Non-Japanese mid-size vehicle: Left and right sides ¥38,000
(film purchase cost, ¥6,800; application time, approximately 100 minutes)

You can expect high revenue whether you use it as a standalone menu item or as an option with new car coatings.
Purchasing films and kits
Free materials for blogs and websites
These materials may be freely used for your business's blog, website, leaflets, etc.
●

Logos/photographs (examples)