Jun. 01, 2023

May. 22, 2023

Apr. 18, 2023

Apr. 12, 2023

Mar. 09, 2023
Visible Light Hardening Resins & Supplies
▼Go directly to list of products
Easy to use, efficient and beautiful finish
Irradiation is possible from the inside of the glass while pressurized
Visible light hardening resin can be cured by irradiating a visible light lamp from the inside of the glass under pressure. Furthermore, it has excellent durability and stability, and has light resistance to prevent yellowing and maintain high transparency.
Many of the problems with commonly used UV hardening resins are that the press-fitted resin shrinks. Since the resin has the property of moving toward the direction of light during curing, air bubbles are likely to form at the bottom of the drill hole by irradiating light from the hitting point side. In addition, since no pressure is applied, shrinkage is likely to occur and sink marks during curing are likely to occur.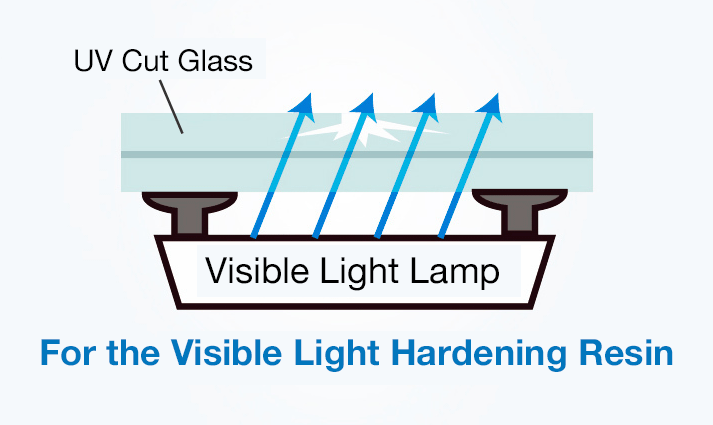 Even in UV-cut glass, visible light passes through the glass and completely cures the resin.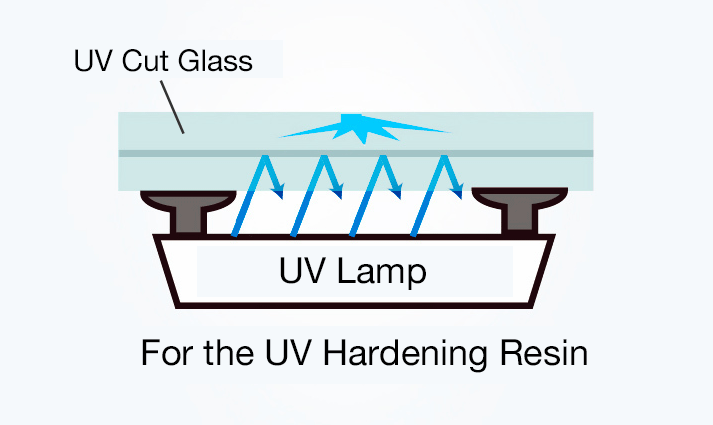 The light of the UV lamp is blocked by the glass, and the injected resin does not cure.
Overcomes the weak points of UV resin and
realizes high quality finish
even when applied to UV cut glass
Characteristics
Irradiation is possible from the inside of the glass while pressurized
No air bubbles remain in the drill hole
Sink marks are less likely to occur after curing
There is no shadow on the border with the glass
Many of the tools can be diverted


Note: UV lamps need to be changed to visible light lamps.
Quality
Achieving transparency with technological capabilities recognized by the optoelectronics industry
Solvent-free, environmentally friendly, compatible with GHS
High-quality finish by adjusting the viscosity to an appropriate level for each application
| | |
| --- | --- |
| Number of results:6 |   1 - 6  |
| | |
| --- | --- |
| Number of results:6 |   1 - 6  |