Jun. 01, 2023

May. 22, 2023

Apr. 18, 2023

Apr. 12, 2023

Mar. 09, 2023
【Boxed】3M 243J PLUS Masking Tape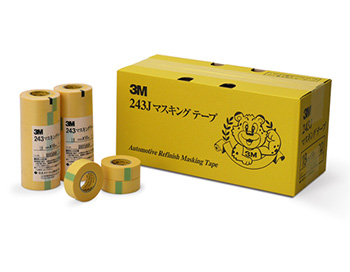 This all-purpose masking tape for automotive painting is made with Japanese paper as its base material. This is an overall balanced product. It has strong adhesiveness, leaves little adhesive residue, does not easily tear lengthwise, follows a radius easily, and defines a sharp edge.

◆It can withstand drying at 120°C for 1 hour.
■

Reduced adhesive residue/strong>
Using a newly optimized acrylic adhesive, application of the tape is just as easy as before, but the amount of adhesive residue has been reduced.

■

Stronger paper
It is still easy to tear by hand, but it does not tear lengthwise easily. It also balances strength with flexibility and is easy to use on both straight and curved lines.

■

Improved unrolling
The tape is now easier to unroll when applying. Even the wide rolls are easy to use.