Jun. 01, 2023

May. 22, 2023

Apr. 18, 2023

Apr. 12, 2023

Mar. 09, 2023
Urethane Cutting Pads
The Urethane Cutting Pad Series uses urethane foam, the roughest in the pad lineup. With excellent cutting power, it is suitable for initial polishing when not using a Wool Pad.

Density
(kg/m3)
Number of cells
(items/25mm)
Tensile strength
(kg/cm3)
Expansion rate
(%)
30±5
30±4
1.0≦
200≦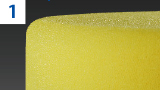 The Buffing Pad's front corners have been rounded.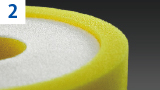 The Velcro on the Buffing Pad's back is affixed such that it forms an indentation in the back of the pad.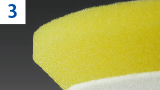 The pad is tapered from front to back.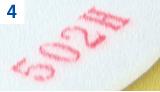 The Velcro on the back of the Buffing Pad is harder than normal products, allowing for easy application of even surface pressure across the entire pad.

| | |
| --- | --- |
| Number of results:14 |   1 - 14  |
| | |
| --- | --- |
| Number of results:14 |   1 - 14  |