Jun. 01, 2023

May. 22, 2023

Apr. 18, 2023

Apr. 12, 2023

Mar. 09, 2023
3M Trim Tape 6348/6349
Size
50.8mm×10m (standard)
Insertion width
15mm(6348)
10mm(6349)
Heat resistance temperature
90℃/40 minutes (standard)

Learn more about this product.

This masking tape will keep the molding (trim) around glass from getting dirty during painting. Use it by inserting the tape into the gap between the molding and the body to raise the molding away from the body. There are 2 widths to match the depth of molding. Select the width of tape to be inserted.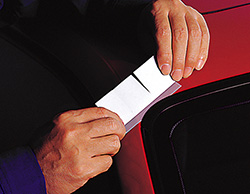 For example, inserting it into the gap around the glass molding can easily raise the molding.