Jun. 01, 2023

May. 22, 2023

Apr. 18, 2023

Apr. 12, 2023

Mar. 09, 2023
PPF Gel Eco Smoother

Eco-friendly and dramatically improved workability
The basic operations of PPF installation, "position", "smooth" and "affix", have become even easier.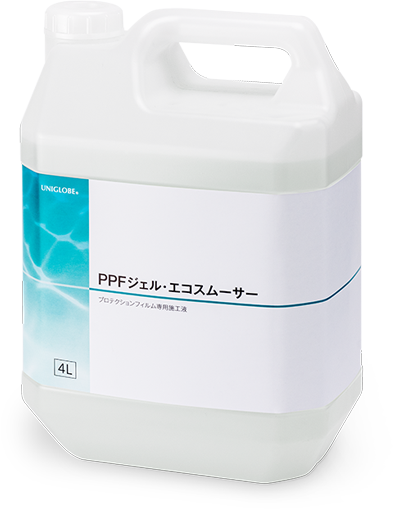 TIP
Hard to leave adhesive smudge marks

It suppresses the adhesive smudge marks caused by repeated application and removal in the process of PPF installation.

Economical

It is very economical because it is diluted with 30% to 50% water.

Eco friendly

It is a film installation liquid that does not contain any alcohol as a raw material and is friendly to the user and the environment.

Basic operation of PPF installation
"position", "smooth", "affix"
Position

*Easy positioning
PPF Gel Eco Smoother is a gel application fluid with the perfect viscosity. It forms a thick, slow-drying gel membrane, allowing you to position films on hoods, bumpers, and other parts with large areas, without the stress of the application fluid drying out. You can also spray it onto parts with vertical surfaces without it dripping, making it easy to work with.
Smooth

*Easy fluid removal while squeegeeing
Squeegeeing PPF is a delicate job which can cause you worrying about application fluid residue. After revising the viscosity, PPF Gel Eco Smoother's viscosity allows you to more easily feel the fluid being removed during squeegeeing and avoid any fluid residue.
Affix

*Precise film "fixing" for shapes with very high or low points and when wrapping
Fixing is the most important part of PPF application. Using PPF Gel Eco Smoother together with water allows you to firmly affix the edges of the film. You can achieve a precise application for 3D shapes with significantly high or low points, as well as when wrapping around edges.