Jun. 01, 2023

May. 22, 2023

Apr. 18, 2023

Apr. 12, 2023

Mar. 09, 2023
[News Release] Wide Range Compound That Focuses on Initial Cutting Process "KATANA META-SHOT" is Released.
News Release R-1015
Mar, 2023
Wide Range Compound That Focuses on Initial Cutting Process
"KATANA META-SHOT" is Released.
A Wide Range Product That Achieves Both Simplicity of Initial Cutting and Delicate Finish
FE TRADE CO., LTD. will start offering "KATANA META-SHOT", a polishing compound focused on "initial cutting", from the KATANA series, which has been favored for many years as professional products. As a member of the ONE-SHOT SYSTEM, this product can speedily perform everything from denibbing, removing marks, and surface smoothing to finishing. We will continue to meet the diverse needs of polishing products and contribute to the further efficiency of polishing work.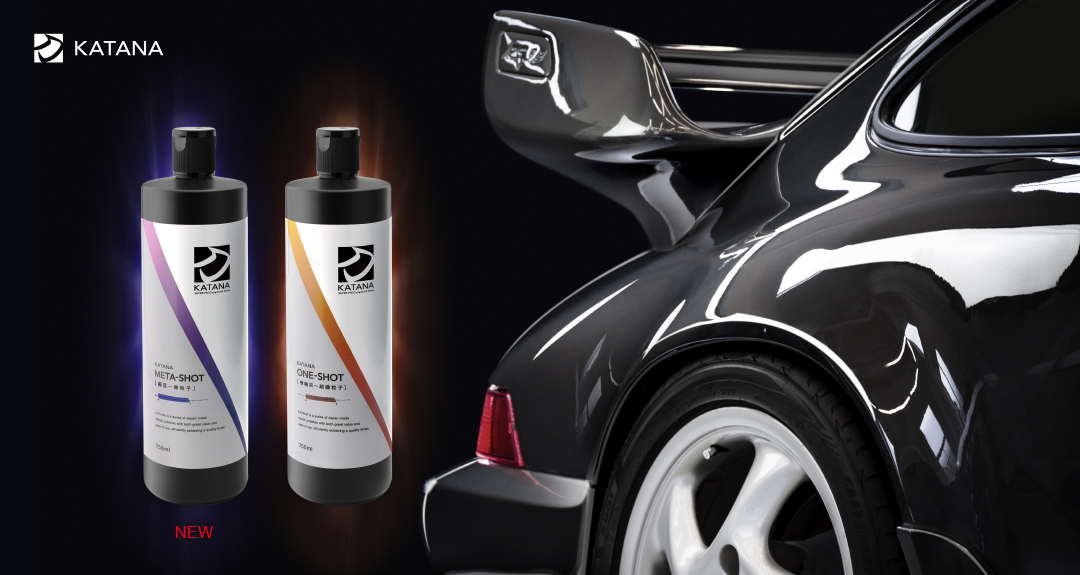 ■ Background of the Launch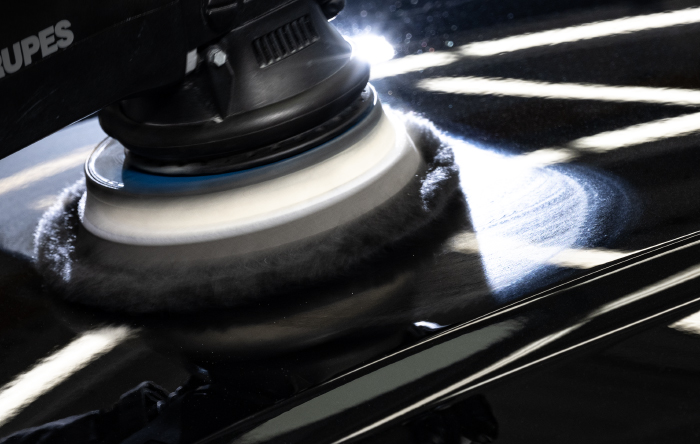 As a recent trend in the car aftermarket, large orbital polishers with high handling and delicate polishing performance are becoming mainstream. A tool that mainly uses wide eccentric motion is easy to use and useful for everyone, but on the other hand, it takes more time to work than a rotary polisher, which leads to a decrease in labor rate. Therefore, in developing a new compound, we have repeatedly verified the following four points as development concepts: "Being compatible with any operation method of the tool (large orbital polisher / rotary polisher)", "realizing quick polishing result without residue while having the ability for initial cutting", "minimizing adverse effects of polishing dust", and "enabling fine finish as a wide range product". "META-SHOT" can be used not only for the initial cutting to finishing in auto detailing, but also it works faster with "ONE-SHOT" for removing marks after denibbing and surface smoothing to finishing in the car repair field. In particular, the fact that anyone can experience both strong polishing and clean polishing without compound residue is a major feature of this product.
■ Characteristics of the Product
"Wide range compound" that achieves both strong cutting and delicate finish

It is a wide-range compound that achieves a delicate finish down to light finishing level while maintaining sufficient power for initial cutting of aged cars in auto detailing, as well as removing marks after denibbing and surface smoothing. It also supports delicate paint such as Scratch Shield.

Clean polishing without leaving compound residue

"Not leaving unnecessary compound residue" is very important for achieving faster polish work. META-SHOT realizes a new strong and clean polishing feeling without "leaving compound residue" that enables polishing work in an appropriate time.

Less polishing dust

It does not have the harmful effects of polishing dust often found in compounds for initial cutting.

Smooth and light polishing that does not make you feel high viscosity

Regardless of the type of polisher, smooth and light polishing work is possible while having high viscosity.
■ From the Section in Charge
Reducing the amount of polishing dust generated during work while maintaining ONE-SHOT feeling and "quick result without leaving residue", which is the most important point in polishing work, was our inevitable challenge for improving workability. "KATANA META-SHOT" cleared this challenge and added a new charm to the KATANA series.
■ Applications
From initial cutting of aged car in auto detailing
Removing sand paper marks after denibbing / surface smoothing
■ Product Summary
| [Product name] | [Volume] | [Particles] | [Viscosity] | [Liquid color] | [Characteristics]] |
| --- | --- | --- | --- | --- | --- |
| KATANA META-SHOT | 750ml | Heavy cut to light finishing | 4 | White | Non-silicone / wax-free |
[Product name] KATANA META-SHOT
[Volume] 750ml / 4L
[Particles] Heavy cut to light finishing
[Viscosity] 4
[Liquid color] White
[Characteristics] Non-silicone / wax-free

Back to News List

HOME